People often think we screenprint our shirts but we do things a little differently around here.
We digitally print garments with our Brother GTX Pro DTG (Direct to Garment) Printer.
Digital printing is one of the most eco-friendly ways to print! We only use water-based inks meaning those who create have minimal ink waste whilst creating high-detailed prints.
Unlike screen printing, we don't have a limitation on the number of colours which can be used for your design.
DTG is also the best way to print fine and detailed images and photographs (aka a good opportunity to show everyone just how much you love your dog).
What kind of ink do we use?
We use plastic-free, water based OEKO-TEX STANDARD 100 certified inks. They are all eco friendly, and are approved for use on GOTS-certified garments. They contain no animal products and are not tested on animals.
There are two ways we used these inks to print your garments.
If your garment is darker or brighter than your design, we will first prep the garment with a layer of pretreatment and print a white under-base layer. Your final design will be printed and sit on top of this.
When the image is darker than the garment pretreatment is not necessary. The translucent ink soaks into the garment and dyes the fabric itself. The image then ages with the garment and over time gives it a more vintage look and feel.
but how long will it last?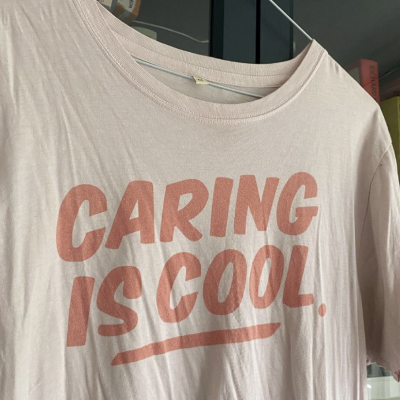 No print will look brand new forever, so making sure you use the correct garment aftercare is the #NO1 top tip to keeping your shirts looking 100% for longer.
Make sure when you wash your t-shirts to flip it inside out. If you're going to iron it also keep it inside out and use a low heat.
Don't tumble dry your shirt and avoid using any sort of  'lightening' products.
Poor quality detergents also have a tendency to bleach designs!
Image : The Enthusiast DTG print shirt after lots of washes and lots of love.